Disclosure: This post may contain affiliate links that earn us a small commission at no additional cost to you. Our recommendations are thoroughly researched to only feature the best and most-loved products.
Whether you have a new puppy or have recently adopted an older dog, you're still in the getting-to-know-you phase and may not quite be sure what kind of toys your dog likes. Rather than offering one or two types of toys and hoping he likes them, try giving your new dog a toy from each of these categories to learn his preferences.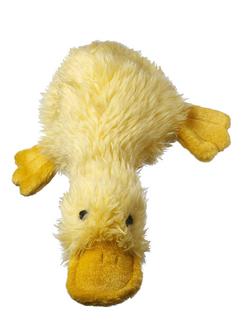 Plush toys
Most dogs love a good plush toy. Some dogs will engage in gentle play, but for others, it's a race to remove all the stuffing and then disassemble the limbs. There are several different options you can try: with or without a squeaker, with or without stuffing, and standard plush toys versus those that are made out of more durable materials like fire hose toys.
Note: When giving your new dog a plush toy for the first time, be sure to supervise his playtime to prevent accidental swallowing of toy pieces.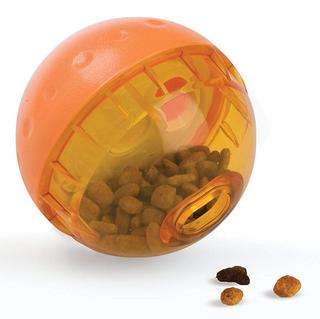 Puzzle toys
Challenge your dog's brain with a puzzle toy! What is a puzzle toy? Typically, it's an object that traps treats or kibble in a way that your dog has to work a little (or a lot) to release them. Many dogs enjoy the challenge of working for their food, especially when there's a tasty reward at the end.
There are several different types of puzzle toys; here are a few examples: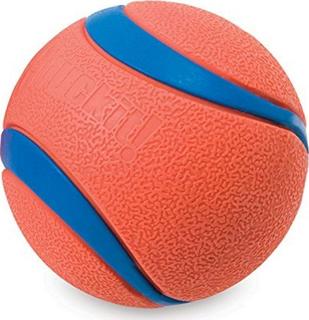 Balls and frisbees
There are dog breeds that love to chase, and among those, there are dogs that will even return the thrown toy to their pet parent for another go. Whether or not your pup plans on bringing the toy back, you'll want to see what his thoughts are about balls and frisbees. Be sure to choose a size appropriate ball for your dog-- a ball that is too small can be a choking hazard to an excited large dog breed.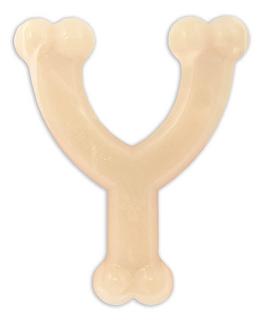 Durable chewing toys
Exercise your dog's jaw (and protect your shoes) by providing dog-friendly toys to chew on. Teething puppies especially need an outlet for their chewing energy. Hard plastic toys made by Nylabone and Benebone were designed for tough chewing. You can also find hard rubber toys that withstand a puppy's teething.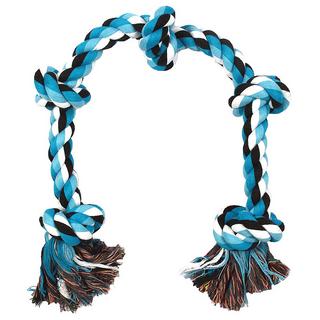 Tugging rope
A good game of tug-o-war requires a second participant, whether it's a human family member or another dog. Put your new dog to the test with a sturdy rope and let them tug away for a full body exercise.
Just keep in mind that tugging rope is not for all dogs; some dogs may feel possessive of the rope and an innocent game can become aggressive. If your dog's mouth ever touches your hand, even gently, temporarily end the game so your dog can learn the rules.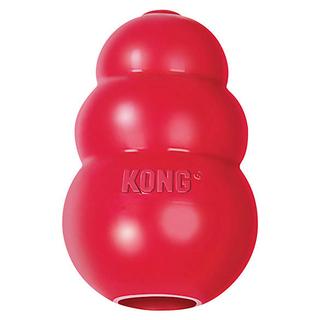 Classic Kong
Somewhere between a puzzle toy and a durable chew toy is the classic Kong. If a home has a dog, there's a good chance it also has a Kong toy. This multipurpose dog toy can be tossed, chewed, or stuffed with treats to keep your dog busy. There are many Kong recipes all over the internet so you can keep mixing it up. For an added challenge, place your stuffed Kong in the freezer overnight before offering it to your dog.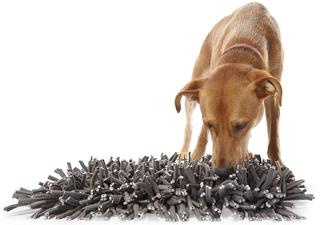 Snuffle mat
Put your dog's nose to the test with a snuffle mat. This stimulating mat, which you can make or buy, consists of loose fabric flaps (and sometimes even pockets and other challenges) in which you can hide small treats or kibble. Your dog has to use his nose to root around and find his rewards.
Why dog toys are important
Even though most dogs today fill the role of 'companion' (rather than a working animal), they still need something to do. Toys provide entertainment, exercise, and mental stimulation.
If you're playing an interactive game with your dog, like fetch or tug-o-war, he gets some special bonding time with his pet parent. Many toys also activate your dog's natural instincts to hunt, chase, or put their brain to work to solve a puzzle.
Toys can also be a great way to keep your dog busy or distract him in unfamiliar situations, such as when you're traveling, moving, or when you have guests over.
So give each type of toy a try and see what your dog gravitates towards. You may just learn something about your new family member!
Scritch is your one-stop destination for all things pet. Store and share your pet notes and records, browse the map of pet-friendly spots, find pets in your area to adopt, find pet care, read product reviews, and much more. Sign up for free to get full access today.
Main photo by flickr photographer simon_cambridge