The holidays are quickly approaching and it's time to start checking off that shopping list. But what do you get the dog or cat that has everything? We've rounded up nine unique pet products from toys to tech that are sure to be hot buys for the 2018 holiday season.
OHBowl™ for dogs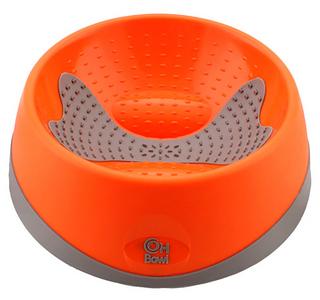 Developed by vets, the OHBowl™ was designed with small rubber tips to promote good oral hygiene. As your dog licks the bowl, the bumps help to "brush" his tongue and remove odor-causing bacteria. The company recommends spreading a tasty soft treat such as yogurt on the bowl to encourage licking. It features an anti-slip base, holds up to 4 cups of food, and is dishwasher safe.
PetSafe Automatic Cheese Toy for cats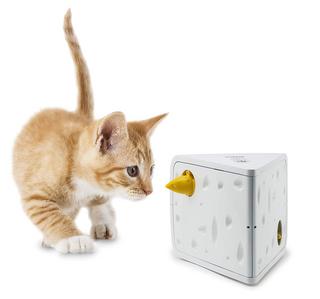 This battery-powered cat toy entertains your cat with a thrilling hunting activity. Simply press the button and two mice intermittently pop in and out of the cheese block for your kitty to attack. The toy automatically turns off after 10-15 minutes, but you can also toggle the settings so that it turns on while you're away from home.
PillStachios for dogs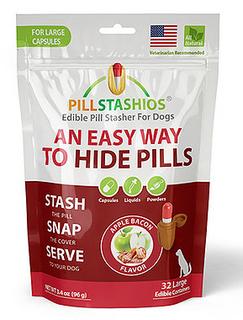 Having trouble giving your dog a pill? PillStachios, which come in two sizes and three enticing flavors, offers an easy, mess-free way to hide your dog's pills. The edible case snaps closed to fully enclose a pill and lock potentially bitter smells inside. Though they are designed for a standard pill shape, PillStachios can also be used for administering liquids and powders.
PetFusion™ Ultimate Scratcher Lounge for cats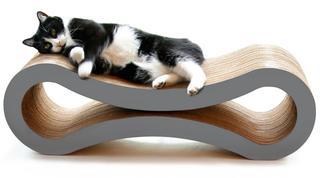 If your cat loves to find new places to relax, this two-in-one scratcher lounge is the perfect gift. Save your furniture by giving kitty a dedicated scratcher where he can also lounge and hide in the "tunnels". There are three color choices, and at 34 inches long, this scratcher is great for even the largest of felines—domestic, that is.
Brilliant Pad for dogs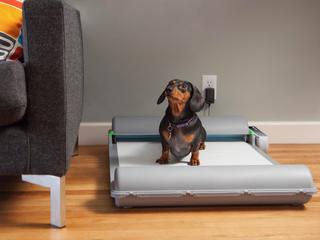 Made for small dogs that already use potty pads, the Brilliant Pad is a device that lives up to its name. Once your pet "deposits" his liquids and solids on the highly absorbent pads, the machine automatically rolls it up, securely trapping the waste and revealing a fresh section of the pad. One roll is equivalent to 27 potty pads, and after the entire roll has been used, you simply dispose of it and load up a fresh roll.
ThunderEase for dogs and cats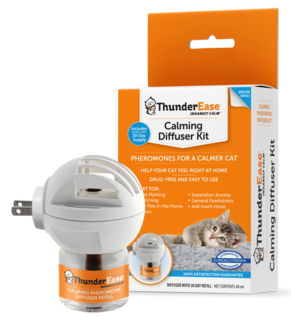 The creators of the ThunderShirt have created another natural product to help your dog or cat during stressful times. ThunderEase is a drug-free solution that emits calming pheromones via a diffuser, spray, or collar (for dogs). The company claims this product is 90% effective at reducing anxiety and unwanted behavior. It can be used to combat stress caused by a variety of situations, such as thunderstorms, fireworks, and moving into a new home.
Whistle 3 GPS Tracker for dogs and cats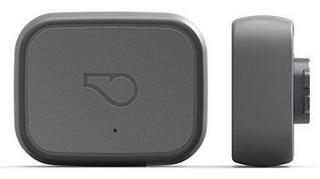 Though it requires a small monthly subscription fee, the Whistle Tracker can be a lifesaver for pets that are at risk of wandering away from home. This small device attaches to your pet's collar and is connected to a cellular network, allowing you to track your pet's location 24/7 via the smartphone app. Receive notifications when your pet wanders outside of your designated safe place so you can retrieve them before they get too far away. It comes equipped with a battery that needs to be recharged about once a week.
Petkit Fresh Metal Bowl for dogs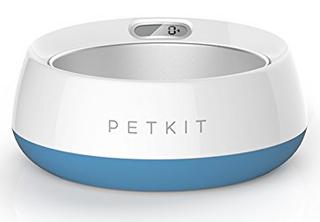 This smart feeding bowl is part of a line of products designed to help your pet achieve and maintain a healthy weight. The washable inner bowl holds up to 750 grams of food and is meant for medium and large dogs. It has a built-in scale with four different units of measurement and pairs to a smartphone app so you can track exactly how much your pet is eating. For dogs on a diet, the company also sells an activity tracking device to monitor your dog's burned calories.
Catit Senses 2.0 Food Tree for cats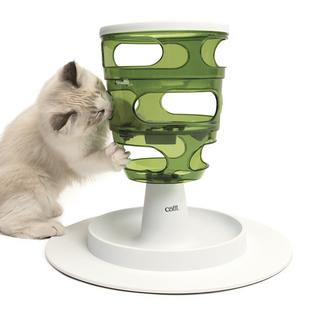 Slow down greedy eaters and keep your cat busy with the Catit Food Tree. It features a wide, sturdy base (so your cat can't knock it over) and three levels to fill with dry kibble. This stimulating puzzle toy puts your cat to work, requiring him to paw the food down each level until it falls into the bottom tray. This product has adjustable difficulty settings and can be disassembled for easy cleaning.
Bonus: Pet monitoring devices for dogs and cats
Get peace of mind while your pet is home alone by monitoring him with a pet camera. We've reviewed the most popular pet monitoring devices, some of which also allow you to dispense treats and play with your pet while you're away.