Disclosure: This post may contain affiliate links that earn us a small commission at no additional cost to you. Our recommendations are thoroughly researched to only feature the best and most-loved products.
A dog and a bone go together like peanut butter and jelly. Most dogs get excited about the prospect of a good dog bone: they love to hide them, chew on them, and eat them. Plus, bones offer many benefits, as you'll learn. However, not all bones are created equal, and it definitely isn't safe to give your dog just any bone. Read on to learn more about the different types of dog bones and which options are best.
Benefits of chewing on bones
Getting into a good bone is great for your dog in many ways, including:
Dental health: Regular chewing helps your dog to maintain good dental health because it helps to clean the teeth and gums. Reduced plaque means whiter teeth and fresher breath, too!
Entertainment: This stimulating activity gives your dog something to do, especially on those rainy days that you've opted to skip the dog park.
Satisfies the urge to chew: Every dog has an innate urge to chew (some more than others) and bones are an appropriate outlet for chewing. Being able to relieve her need to chew on a bone means your dog is less likely to engage in destructive chewing behavior on items like furniture or shoes.
Puppy teething: Chewing on a bone can help relieve pain from teething as well as stimulate the growth of adult teeth.
Strictly off-limits
The Food and Drug Administration (FDA) and Center for Veterinary Medicine (CVM) recommend avoiding raw and cooked bones altogether because of the safety hazards they present. Not only can bones become moldy or harbor bacteria, they can also break or splinter into sharp pieces that can cause harm. Risks include choking, bleeding, internal blockages or injury, and even death.
Additionally, many veterinarians recommend avoiding deer antlers and anything your dog might chew on that is harder than her teeth. Regularly chewing on a hard bone or antler can grind down your dog's teeth, or cause them to chip or even break, resulting in an emergency trip to the vet.
The best bones for dogs to chew
So what can you give your dog? The answer will be different for every dog as it depends on their size and chewing style, but these are some of our favorite picks.
Nylabone non-edible chew toys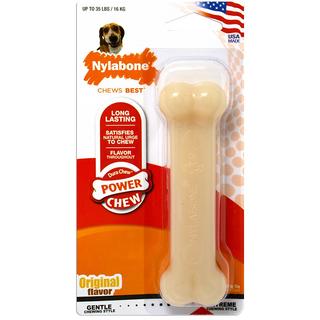 Made up of plastic, rubber, or nylon, Nylabone non-edible toys are great for dogs that love to chew. They come in a wide variety of flavors, sizes, textures, and shapes to suit just about every dog. Additionally, these chew toys are made in four levels of durability, ranging from "puppy" to "power chew."
As your dog chews, little bristles may form on the toy that help to clean her teeth. According to the company, "If these tiny pieces (no larger than a small grain of rice) are ingested, they should pass through. A dog should not be able to break off larger pieces of any Nylabone® Non-Edible Chew." However, some dogs may eventually whittle their toy down to a size that is small enough to swallow. At that point, it's best to throw it away and start over with a new one.
Pros: no calories; won't stain carpet; long lasting; available in a variety of sizes.
Cons: presents a choking hazard once it is small enough to swallow; hurts to step on with bare feet in the middle of the night!
Benebone non-edible chew toys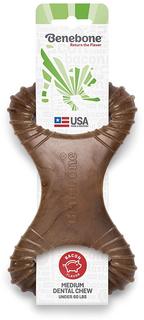 Similar to Nylabone toys, Benebone makes its non-edible chew toys out of super strong nylon. These products are made without chemicals or artificial flavors and can be found in four different shapes that come in several sizes and flavors. They, too, will produce tiny bristles that can break off and should generally be safe to swallow, but it's important to take this toy away when it becomes smaller and a choking hazard.
Pet parents love this toy for its long-lasting durability. The "dental chew" shape (pictured) provides more surface area for chewing, and the handle design lends it for use to play tug-o-war.
Pros: no calories; won't stain carpet; long lasting; available in a variety of sizes.
Cons: presents a choking hazard once it is small enough to swallow; again—be careful not to step on it!
Bully sticks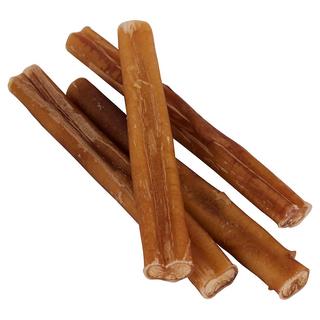 Made of 100% natural meat, the bull pizzle is a dried, edible chew that many dogs absolutely love. They can be found in varying thicknesses and lengths. Though they are made up mostly of protein, keep in mind that consuming extra calories on a regular basis can lead to weight gain and obesity. For aggressive chewers, practice moderation.
Because it's made of real meat, a bully stick poses the potential for bacteria. Always wash your hands after handling them, and we recommend having your dog chew it on a towel or hard floor to keep drooling or stains from reaching the carpet.
Pros: contains healthy nutrients; made of real meat; especially enticing to dogs.
Cons: can be smelly, especially when chewed; doesn't last as long; could stain carpet.
Blue Buffalo Dental Bones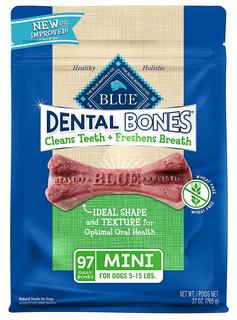 Dogs go crazy for the flavor of these edible dental bones that are a safer alternative to rawhide chews or jerky treats. They come in four sizes and are meant to be given as a treat (and not as a meal replacement). Some pet parents noticed fresher breath and cleaner teeth when offering these bones regularly.
Pros: super tasty; made of natural ingredients.
Cons: added calories; can be expensive to buy them regularly.
Purina Busy Bone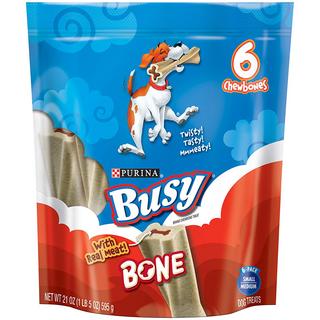 This tasty, edible chew is made up of a tough exterior with a meaty middle. With regards to longevity, the Busy Bone falls somewhere between an inedible bone and a treat. It will keep most dogs busy for several minutes, but power chewers may be able to get through them much more quickly. They come in four sizes to suit tiny dogs all the way up to those that are 55+ pounds. Keep in mind that these could potentially stain carpet.
Pros: low price; dogs love the taste.
Cons: doesn't last very long; added calories; some ingredients could cause digestive issues.
Depending on your dog's chewing habits, all types of bones can pose some risk. Use your best judgment when giving your dog a new type of bone or treat, and always supervise your dog as she chews her new bone.
Scritch is your one-stop destination for all things pet. Store and share your pet notes and records, browse the map of pet-friendly spots, find pets in your area to adopt, find pet care, read product reviews, and much more. Sign up for free to get full access today.