Disclosure: This post may contain affiliate links that earn us a small commission at no additional cost to you. Our recommendations are thoroughly researched to only feature the best and most-loved products.
Regular teeth brushing is part of being a responsible pet parent. Not only does it help to keep bad dog breath at bay, frequently brushing your dog's teeth can help prevent expensive dental work in the future. There are several ways to keep your dog's teeth clean and maintain his fresh breath, including teeth wipes, water additives, oral sprays, and good old-fashioned brushing. When brushing your dog's teeth, it's important to only use toothpastes made specifically for dogs because they are not harmful if swallowed. Here are seven of the best toothpastes for dogs.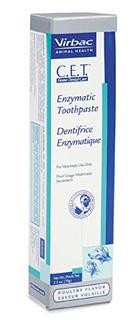 Virbac C.E.T. Enzymatic Toothpaste
You'll find this toothpaste in several different flavors, including beef, poultry, seafood, malt, and vanilla-mint. Enzymes help to prevent plaque and keep breath fresh.

Nylabone Advanced Oral Care Tartar Control Toothpaste
Nylabone toothpastes are formulated with an ingredient called Denta-C, which helps to reduce plaque that harbors bacteria. They are also made in the USA.

Sentry Petrodex Enzymatic Toothpaste
This highly rated toothpaste comes in poultry flavor and contains specially formulated enzymes to help with plaque control.

Tropiclean Fresh Breath No Brushing Dental Gel
Made in vanilla mint and peanut butter flavors, this gel can be used without brushing. You simply apply a small dab of gel to each side of your dog's mouth and his licking does the rest of the work.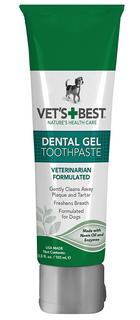 Vet's Best Dental Gel Toothpaste
Vet's Best toothpaste is veterinarian-formulated and contains aloe, neem oil, grapefruit seed extract, baking soda, and enzymes.

Arm & Hammer Advanced Care Enzymatic Toothpaste
Choose from beef, chicken or vanilla ginger flavors of this dog toothpaste. It is designed to remove and prevent plaque buildup while keeping your pup's teeth clean.

Kissable All-Natural Tartar Control Dog Toothpaste
Maintain healthy gums and prevent tartar buildup with Kissable dog toothpaste. This toothpaste is available in two flavors: cucumber mint and vanilla & tea tree oil.
Scritch is your one-stop destination for all things pet. Store and share your pet notes and records, browse the map of pet-friendly spots, find pets in your area to adopt, find pet care, read product reviews, and much more. Sign up for free to get full access today.