Disclosure: This post may contain affiliate links that earn us a small commission at no additional cost to you. Our recommendations are thoroughly researched to only feature the best and most-loved products.
During training exercises, there are some lucky pet parents who can reward their dogs with a special toy or love and physical affection. For the rest of us, we turn to food. Food seems to be the universal motivator among the canine community. But it's important that you choose the right kind of food to reward your pup during training in order to get the best results.
There are two very important factors when selecting treats to use for training. Your treats should be:
Super delicious. Whatever they are, it's important that your dog finds these treats very enticing. This will motivate your dog to want to earn them. If your dog has a "meh, those are just okay" attitude about a treat, you're likely to lose his attention.
Low in calories. An 8-ounce steak may be super enticing to your dog, but you can't give him an entire steak every time he properly does a 'sit'. It's important to keep the calorie count low so your dog doesn't quickly get full, and also to prevent weight gain. If cooked steak is your choice, chop it into small, pea-sized pieces and only offer one at a time as a reward.
What dog treats and foods are best for training? Have a look at our list.
The best training treats for dogs
Their regular meals - If your pet eats dry kibble and is excited to scarf it down, then you can simply set some of his dinner aside to use for training. This way, you don't have to spend extra money on treats, and you can be sure your dog isn't over-eating.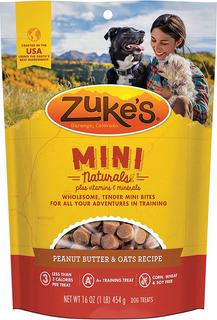 Zuke's Mini Naturals - These bite-sized treats come in 7 different flavors, which include chicken, duck, peanut butter, pork, salmon, wild rabbit and exotic. Each treat has 3.5 calories and there is no wheat, corn or soy in these recipes.
Instinct Raw Boost Mixers - These freeze-dried raw treats are lightweight, healthy, and come in small pieces. Though they are meant as a topper or mix-in for your dog's food, we find that they are very convenient for training, too!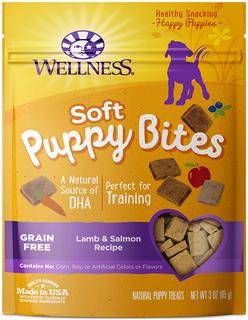 Wellness Soft Puppy Bites - Made with healthy ingredients, these treats are made soft for sensitive puppy mouths, but can be shared with dogs of any age. The square-shaped treats are about the size of a nickel, so we suggest breaking them into 2-4 pieces for smaller dogs.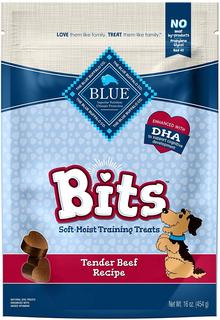 Blue Buffalo Blue Bits - Available in turkey, salmon, beef, and chicken, these soft, moist treats are healthy and tasty for dogs of all ages. Each treat contains 3.5 calories.
Cheese - Most dogs can't deny a bite of cheese, and it can be a great motivator when it comes to training. Just be sure to chop it up into small bits. We recommend cheddar or mozzarella; avoid blue cheeses.
Cooked lean meat - So long as the skin, fat, and bones are removed, you can use cooked lean meats such as chicken, turkey, or beef for training. After cooking (without spices or oils!), cut the meat into small, pea-sized pieces.
Carrot pieces (or your pet's favorite vegetable) - If your pet is highly motivated by veggies, you won't have to worry about over-feeding or weight gain. Plus, you can feel better about your dog eating healthy while getting smarter. Win-win!
Bonus: Mixed medley - If your dog prefers meat over veggies (as most do), one option is to chop up cooked meat, cheese, and carrots (or your dog's preferred vegetable) and throw them all into a bag or container. Shake it up and store in the fridge overnight. Now the vegetables have absorbed the yummy meat and cheese aromas, and you have a larger amount of training treats without having to buy more meat.