Disclosure: This post may contain affiliate links that earn us a small commission at no additional cost to you. Our recommendations are thoroughly researched to only feature the best and most-loved products.
When it comes to mealtime, some dogs are far too eager. You know the type: they swallow mouthfuls of kibble without chewing or even tasting it; they seem to eat every meal as though it's their last and the world is about to end. You may be proud of your dog for having a healthy appetite, but chowing down too quickly can set your dog up for a dangerous situation.
Eating too fast puts your dog at risk of:
Choking
Vomiting
Gastrointestinal discomfort
Bloat, a potentially life-threatening condition
Additionally, when a dog scarfs down his food, he won't immediately get those "full" signals from his stomach. This could lead to stealing food from other pets, begging and obesity due to overeating.
Fortunately, thanks to modern technology, there exists dog bowls which help to slow down fast eaters. They work by presenting obstacles for your dog to work around, which prevents him from taking huge mouthfuls of food at a time, thereby reducing the risks of the issues mentioned above. If you're looking to try one for your dog, the following five slow feeder bowls are some of the best options on the market.
Outward Hound Fun Feeder Interactive Dog Bowl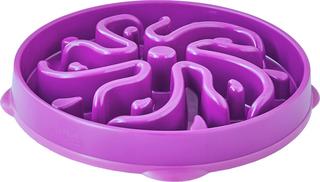 $9.95-$12.99
Outward Hound's interactive bowl is available in three different styles, each of which comes in two size options. That means you can pick your favorite style or buy all three to keep your pup on his toes. They are dishwasher safe in the top rack. Cons: A clever dog might be able to figure out how to flip it over.
Dogit Go Slow Anti-Gulping Dog Bowl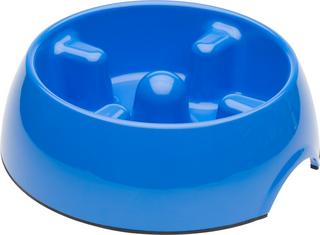 $4.61-$9.99
The dishwasher safe Dogit bowl is available in four colors and four sizes from x-small to large, so you can find the perfect fit for your pup. Cons: For eager eaters, this style of bowl may not present enough obstacles.
Northmate Green Interactive Dog Feeder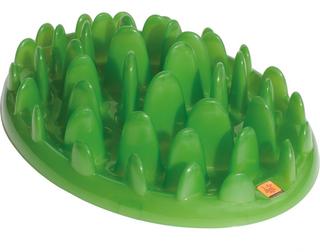 $29.99-$34.99
Less of a bowl and more of an interactive feeding tray, the green feeder features "blades of grass" of varying heights for a unique challenge. It's dishwasher safe, comes in two sizes, and its wide, shallow base with gripping rubber feet make it difficult to tip over. Cons: Due to the taller blades of grass, this style of feeder may not be right for all muzzle shapes and sizes.
OurPets DuraPet Slow Feed Premium Stainless Steel Dog Bowl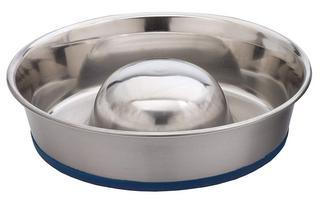 $9.99-$19.99
This dishwasher-safe bowl features a skid-proof bonded ring on the bottom and comes in three sizes. Stainless steel is always a great choice for pet food bowls because it doesn't harbor bacteria. (Plastic bowls become scratched over time, creating crevices for bacteria to build up.) Cons: The simple design may not be enough of a challenge for eager gobblers.
JW Pet Skid Stop Slow Feed Dog Bowl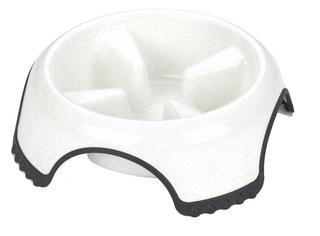 $2.88-$5.79
A popular and inexpensive option, the JW Pet bowl is made of heavy-duty plastic that is dishwasher safe, and it features a rubber base to prevent sliding. This bowl comes in three sizes and a variety of colors. Cons: The design may not be intricate enough to slow down all dogs.
Bonus life hack: If you're not ready to commit to a purchase, you may want to start by simply putting a tennis ball in your dog's bowl with his food to help slow down his eating.
We haven't forgotten about the cats! Cats, too, can be fast eaters and might benefit from a slow feeder bowl. Fortunately, all of these options come in small sizes that could work for a cat.
Prices as of time of writing: November 26, 2018