If you've ever thought about trying your hand at homemade dog cookies or biscuits, today is the day to start! We've collected 5 excellent dog biscuit recipes from around the internet that are sure to make your dog go nuts. Choose your favorite, bust out your baking sheets, and keep the canines out of the kitchen to make these easy dog biscuit recipes.
Homemade Carrot Dog Biscuits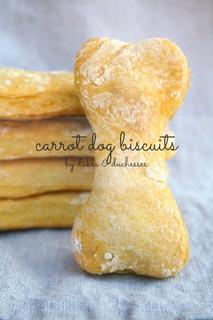 This homemade dog biscuit recipe from Dukes and Duchesses uses carrot baby food to ensure a smooth texture in these traditional canine temptations. Carrots are loaded with vitamins A, C and K, as well as fiber and antioxidants. However, this recipe also uses eggs and flour, so these are a no-go for dogs with certain allergies.
Sweet Potato Banana Dog Biscuits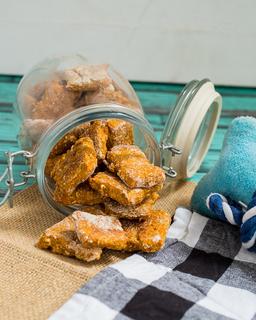 Perfect for a pup's birthday or absolutely no reason at all, these dog biscuits from Girl in the Little Red Kitchen feature another superfood – sweet potatoes! Dogs love this healthy veggie, which contains over 100% of your daily vitamin A recommendation and plenty of fiber to boot. Orange sweet potatoes are the most common variety, but keep an eye out for yellow and purple sweet potatoes, which are tasty as well.
Pumpkin Oat Dog Biscuits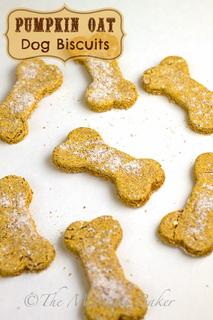 Pumpkin puree gives these scrumptious homemade dog biscuits a rich flavor, perfectly balanced with nutty oats. Avoid using pumpkin pie filling, which has added spices and sugars! Only pure, fresh pureed pumpkin is acceptable for pets, which has the health benefits of vitamin C and fiber. This recipe from The Midnight Baker uses whole wheat flour, so if your pet has sensitivities to gluten it's best to use a substitute.
Chicken and Wild Rice Dog Biscuits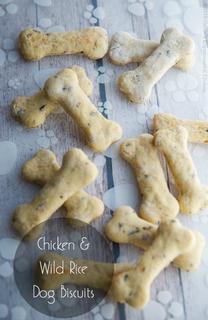 From Carrie's Experimental Kitchen comes this recipe for chicken and wild rice dog biscuits. If your pup prefers a different protein, try swapping out the chicken for the main protein that is used in your dog's regular food. These homemade dog biscuits can be frozen for up to 6 months, so don't be afraid to bake in bulk!
Peanut Butter and Applesauce Cookies for Dogs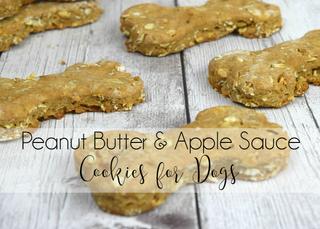 If you've got a peanut butter hound on your hands, these homemade dog biscuits are sure to be a hit! Peanut butter is a great source of protein for pets trying to gain weight through non-meat alternatives. Applesauce adds a moist sweetness, while oats provide just enough texture. The Lazy Pitbull reports these were eagerly eaten by her dogs, although has any pup ever turned down peanut butter?
Scritch is your one-stop destination for all things pet. Store and share your pet notes and records, browse the map of pet-friendly spots, find pets in your area to adopt, find pet care, read product reviews, and much more. Sign up for free to get full access today.